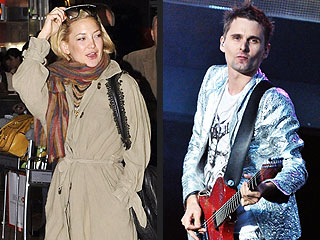 Muse has been my favorite band for over five years now, so this is exciting for me!
Kate Hudson's new boyfriend, Muse rocker Matt Bellamy, is getting ready to meet the parents. The couple is doing well and it's time for the classically huge step. And when Goldie Hawn is your mother, it's a little bit more intimidating. "We are meeting up next week. I'm quite nervous," Bellamy said. "It's a little bit too soon to talk about weddings at stuff. Ask me again in a few months though… I'll let you know how it went with Goldie – and then who knows?"
Hudson and her new beau are doing "great". Bellamy and Hudson came out as a couple last month and have been busy hanging out at Britain's Glastonbury music festival. "Things are going great. I am very happy. We had such a good time at Glastonbury," the Muse front man said. "We just have fun together and are seeing how it goes."
The couple is trying to keep things private by not telling the press about how they met or any of the juicy details. However, some important clues are emerging. In a feature in the UK's The Times, it was revealed that the couple first met in Australia when they were "both in relationships" many years ago. Hudson was with her former husband Chris Robinson while Bellamy was with his ex-girlfriend with whom he split from last September. But when they met again, they were both single.
Follow @Peon25