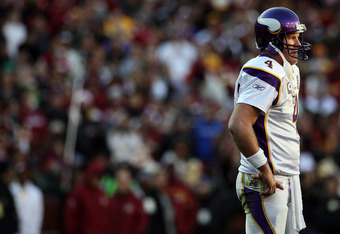 Ten years from now when you're quizzed on useless NFL trivia, and someone asks "Who has the longest game-start streak in the NFL, and who ended that streak?", your answers will be:
Brett Favre, of the Minnesota Vikings 2010, 297 games
Arthur Moats, of the Buffalo Bills December 5th 2010
Will Brett Favre ever play again? I cannot imagine so. I'd have toughed it out to make 300 and called it quits but hey, who am I kidding? I'm not taking hits like that every week, nor am I in my 40s (unless you round up from 30?).
Here's the horribly uploaded video of Favre taking his career-ending hit from behind, and throwing up yet another interception. Good bye, old man.
Follow @Peon25