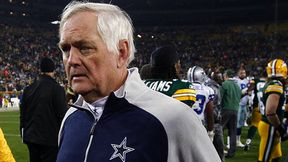 Wade Phillips has finally been let go by the Dallas Cowboys today after a 4pm eastern (1pm our Pacific time) conference from previous Sunday night game failure versus the Packers. The move comes less than a year after he was given a two-year contract extension for leading the Cowboys to their first playoff win in over a decade. He will be replaced by offensive coordinator Jason Garrett.
The end for Phillips came after a 45-7 loss to the Green Bay Packers on Sunday night extended Dallas' losing streak to five games as the Cowboys, which began the season with Super Bowl expectations, fell to 1-7 overall. Phillips ends his time in Dallas with a 35-23 record, having won two NFC East titles and getting the Cowboys' first playoff victory since 1996. Phillips is 83-65 overall as a head coach. Jones, who had never fired a coach in-season since purchasing the team in 1989, had said multiple times that Phillips would finish out this season. The owner cited research showing interim coaches are not successful and that was a deterrent for him making the change.
But the Cowboys' five-game slide, during which they've been outscored 179-107, has made things difficult for Jones, who even apologized publicly to fans. In two of the games, Phillips questioned the passion of his team and wasn't sure if he lost them. Last Monday, Phillips revealed he watched nearly two years' worth of games on tape and discovered fundamentals were lacking. Phillips said it was time for the team to return to the basics, but those basics were severly lacking in Sunday night's loss to the Packers, as the Cowboys were plagued by missed tackles, a muffed punt and poor blocking techniques which resulted in four sacks and a fumble on a kick return. "I thought we played poorly," Phillips said after the Packers game. "I thought we played poorly as a team and we looked like a bad football team. That's the way we played. Bad coaching." Last Friday morning, when asked if Phillips would continue to be the coach for the rest of the season, Jones had a one-word answer: "Yes."
But things took a drastic turn after Sunday night's shellacking on national television. After the game, Jones said there would be dire consequences for what transpired, but he wouldn't give out specifics as to what that meant. "There are a lot of people here who are certainly going to suffer and suffer consequences," Jones said. "I'm talking about within the team — players, coaches who have got careers. This is certainly a setback. I know firsthand what it is to have high expectations."
Phillips didn't want to address if he had any discussions with Jones after the game. Yet, it was clear the Cowboys were headed for a change.
Several players offered their support for Phillips after the loss, but also said the NFL was a business. "I do believe in Wade," wide receiver Miles Austin said. "He's the owner," cornerback Terence Newman said of Jones. "He gets to do whatever he wants to. Whatever he does, we have no choice but to live with it."
Phillips was hired in 2007 and proclaimed himself "Mr. Fix It" when it came to defense. The Cowboys changed their 3-4 defense, deemed too conservative under previous coach Bill Parcells, to become more aggressive by blitzing outside linebackers — mainly DeMarcus Ware — nearly every play. Phillips also offered a much different personality than Parcells' gruff style. Several players said Parcells liked to play mind games and that wore them down after a while. Phillips expected players to police themselves, and he rarely used profanity. Phillips promoted a family environment at Valley Ranch, often saying he preferred to treat players as if they were his sons. Phillips' relaxed style paid off in 2007, when the Cowboys went 13-3, won the NFC East and earned a first-round bye in the playoffs. But Phillips' team was knocked out in the divisional round at home by the eventual Super Bowl champion New York Giants.
The next season, the Cowboys encountered all sorts of problems that Phillips appeared to struggle to contain. Tank Johnson, Keith Davis and Ken Hamlin flew to South Texas for a Halloween Party a day before a road game at New York, which the Giants won 35-14. Cornerback Adam "Pacman" Jones was suspended that season for getting into a fight with his team-issued bodyguard in which Dallas police were called to the scene. Phillips mishandled the Jones situation badly, not making him inactive for the next game before the league mandated the suspension. In an exchange with reporters, Phillips doubted if the fight had taken place — despite a police report having been filed. Terrell Owens feuded with Tony Romo and Jason Witten, and Phillips didn't put a stop to the problems. Despite all the issues, the Cowboys still had a chance to reach the postseason but lost in the regular-season finale to the Philadelphia Eagles 44-6. There was a thought Phillips would get fired after the 2008 season, but he was given one more chance to fix the problems.
Jones released several veterans — including Owens, Adam Jones and Johnson. In 2009, with a calmer locker room and Phillips vowing personal changes in his approach, the Cowboys responded by going 11-5 and winning the NFC East. The Cowboys beat the Eagles in the NFC wild-card round — their first postseason win since 1996 — before losing to the Minnesota Vikings. Phillips was rewarded with a two-year contract extension worth a little more than $3.5 million per season.
With the NFL's highest payroll this season, Jerry Jones was hopeful that the Cowboys would become the first Super Bowl host team to actually play in the game. The Cowboys started 0-2 before beating Houston on the road in Week 3 before a bye week. But five consecutive losses placed the Cowboys into this situation where Jerry Jones was forced to do something he had said didn't want to — fire the coach.
Follow @Peon25