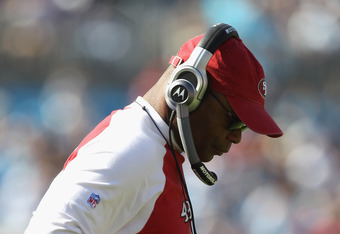 You can see it as clearly as I can, right? The San Francisco 49ers aren't just last place in the division (NFC West); they are last place in the conference. They're second-to-last in the entire NFL, beating only the winless Buffalo Bills (AFC East).
They suffered yet another embarrassing 4th quarter loss by a field goal, and now head to London to play a battered and bruised Denver Broncos. After that, they get a bye week. I'm sad to state this, but if the 49ers lose to the Broncos, there will be a changing of the guard in the Head Coach department during that bye week, despite 49ers owner Jed York stating that Mike's job is safe, and despite Singletary having the vote of confidence from his players.
The loss yesterday was more than a devastating blow to already dismal playoff hopes. It was a sure sign that they are not nearly the team the Faithful hoped would come out for the 2010 season. Rather, they are who we feared they'd be.
And for all of you chanting "We Want Carr, We Want Carr" — well, you got him. And you know what you received in that 3-week span of wanting Alex Smith removed? Carr replaced Smith on the third play of the second half after Smith's non-throwing shoulder was sprained while he was sacked by Charles Johnson. Carr attempted five passes in his first 27 minutes of play with one 6-yard completion. From midway through the third quarter until late in the fourth, he went more than 18 minutes with just one pass attempt (and one sack) as the 49ers ran on 10 of 12 plays. Carr didn't air out the ball until the Panthers tied the game 20-20 inside the two-minute warning, only to throw an interception that set up Carolina's game-winning field goal.
So there you have it. Where's Troy Smith when you need him?
Follow @Peon25