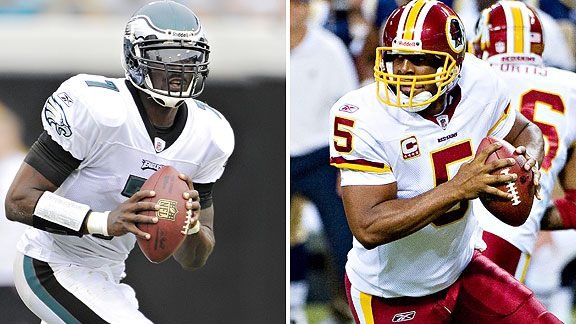 This. Sunday. Donovan McNabb heads back to where he called home for his entire career – the home of the Philadelphia Eagles.
The best part? He rallied so hard to get Michael Vick on the team, who is now the starter of the team which Andy Reid decided would go in another direction, away from one of the best quarterbacks of the past decade.
These two have a lot of similarities. They are superb athletes with rare physical gifts for the position. They are getting another opportunity to lead a second franchise. And they have been quite inconsistent with aspects of their games.
Before we break down these two, a few observations: Vick has done fine work behind center in 2010. But he has done it against some of the worst secondaries (Detroit and Jacksonville) in the league and against a Green Bay team that did not prepare for his unique skill set. Not to mention that Green Bay's pass defense could be its biggest weakness. Also, while both offensive lines have plenty of questions, clearly Vick has better weapons surrounding him than McNabb has in Washington. However, McNabb is returning to Philadelphia. He took the Eagles to five conference championship games, a Super Bowl appearance and had zero felonies.
Let the Battle of McVick begin!
Follow @Peon25