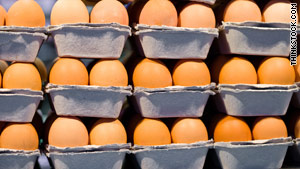 Rodents, piles of manure, uncaged birds and flies too numerous to count were found by investigators at Iowa farms at the heart of the recall of more than half a billion eggs, the Food and Drug Administration reported today. Inspection reports released by the FDA noted numerous violations at six farms operated by Wright County Egg and Quality Egg, which are owned by the same family, and three Hillandale Farms locations.
The inspections, conducted in August after new egg safety rules went into effect, were launched in response to the nationwide outbreaks of salmonella that have sickened an estimated 1,470 people, according to the FDA. Neither company fully adhered to their Salmonella enteritidis prevention plans, the inspectors said. Federal investigators found salmonella bacteria in chicken feed and in barn and walkway areas at some of the farms, officials said last week.
Health officials detailed plans to launch an inspection program of these and other facilities in the coming weeks. On a conference call, FDA officials said they had also found salmonella in water used to wash eggs at a Hillandale facility. They said it is not clear whether the eggs were washed in contaminated water or if the water was sullied by the eggs. "Regarding the positive finding in the egg wash water, it is important to note that after washing, all the eggs are rinsed with water containing chlorine as an additional sanitation step," said Hillandale spokeswoman Julie DeYoung.
At some Wright County Egg facilities, federal inspectors found chicken manure in piles up to eight feet high. In other spots, mounds of manure prevented doors from closing, allowing rodents and other animals to possibly come inside, FDA inspectors said. "The uncaged birds were using the manure [pile] … to access the egg-laying area." The report said Quality Egg and Wright County Egg workers did not always wear protective clothing, that birds were in storage and milling facilities, and feed bins had rusted holes and gaps. Inspectors also found maggots, and in some areas, "live and dead flies were too numerous to count."
Inspections at three Hillandale farms found — among other things — rodents and rodent holes, liquid manure leaking into a chicken house and uncaged chickens tracking manure from a manure pit into a caged henhouse, the inspectors said. The Center for Science in the Public Interest, a food safety advocacy group, called the FDA findings "stomach churning."
FDA officials have said new egg safety rules, which took effect in mid-July after the outbreak began, will greatly reduce the possibility of a similar salmonella outbreak.
Follow @Peon25