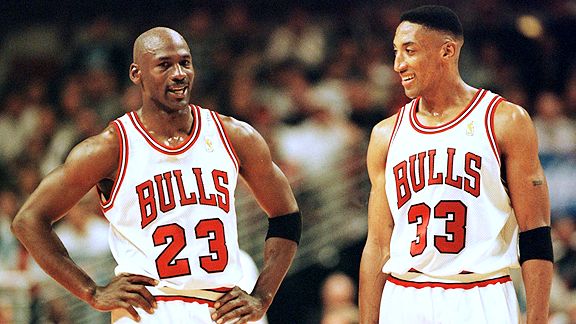 Michael Jordan and Pippen truly were one of sports most dynamic duos, but were they the best duo of all-time? It's tough to quantify that claim across various team sports, but they're definitely on the leaderboard with Montana-Rice, Shaq-Kobe, Ruth-Gehrig among others.
What are the criteria for great sports duos? Longevity, championships and records are a good start. But more than the numbers, they should be two players whom opponents dreaded playing against. Two players who would drive opposing coaches crazy—if you stopped one, the other would beat you. Two players whom if you weren't a fan of their team, you despised. So, let's try to make a case for Jordan and Pippen by starting in their own sport and then comparing them to great duos in other sports:
• Michael and Scottie won six NBA titles together; never did they win one apart. Other tandems might have meshed better on offense (John Stockton and Karl Malone), but MJ and Pip had complementary playing styles at both ends of the court. What Scottie couldn't finish, Michael would. What MJ couldn't guard, Pip would. While MJ was winning scoring titles, No. 33 was doing all the little things to fill the box score. Other than a wide variance in points, their career stat lines were quite similar: Jordan 30.1 ppg, 6.2 rpg, 5.3 apg, 2.3 spg; Pippen 16.2 ppg, 6.4 rpg, 5.2 apg, 2.0 spg. Pippen, an eight-time all-defensive first-teamer, would usually draw the other team's best player, whether it be a point guard or power forward.
• Well, Bill Russell and Bob Cousy won six titles together—what about them? Russell and Cousy, Russell and Heinsohn, Russell and K.C. Jones, Russell and Bill Sharman, Russell and John Havlicek … you get the point. Russell won a bunch of titles with a bunch of HOFers. Were they really duos? Hardly. More like quintets.
• What about Magic Johnson and Kareem Abdul-Jabbar? Yes, they did win five titles together (except for the night Magic, a rookie, played center for the injured Kareem and poured in 42 points and grabbed 15 rebounds to close out the 76ers in the 1980 NBA Finals) during the showtime era, but for three of those they were helped by HOF forward James Worthy.
• Well, Michael and Scottie had help from Dennis Rodman? Correct, for three titles. They also had Horace Grant for the other three. And, they had Luc Longley, Bill Wennington, Bobby Hansen, Randy Brown, etc. The "Worm" might be the only other championship Bulls player to make the Hall.
• Kobe and Shaq were pretty dominant. Agreed. For a short period, they were maybe the most dominant duo and personalities in NBA history. That's exactly why they couldn't co-exist. In team chemistry sports like basketball and hockey, you can't have two Batmans and no Robin; one player has to take a back seat (cc: LeBron, D-Wade). Much like a good marriage, only one parent can wear the pants. Scottie understood Michael was THE MAN. And, he understood it even better after having to play without him while MJ scratched his baseball itch. Kobe and Shaq never conquered that nuance of duality. Neither wanted to play the straight man, and, like a once-great comedy team, they broke up prematurely.
• Michael and Scottie didn't dominate their sport like other great duos. This might be the best argument against them. Babe Ruth and Lou Gehrig were hitting more home runs together than entire teams! In the NHL, the Blackhawks' Bobby Hull and Stan Mikita were the top 1-2 scorers in the league three times in the 1960s playing on the same line, as were Edmonton's Wayne Gretzky and Jari Kurri twice in the 1980s.
But let's not discount defense. It's often overlooked whenever comparisons like this are made. Pippen is considered by many NBA experts as the greatest lockdown perimeter defender in history. Jordan wasn't far behind. If the two had played against, say, Jerry West and Elgin Baylor–another great Lakers' duo–the NBA logo would be Jordan, and Baylor would always be remembered as the guy who screwed up the Clippers.
• What about Montana-Rice? It's one of those duos that rolls off the tongue … montanatorice … ruthandgehrig. Yes, it was great to watch, but statistically they weren't even the best passer-receiver combo in NFL history … or 49ers history, for that matter. Steve Young and Jerry Rice (85 TDs) topped Joe Montana's 55 TD passes to Rice, only to be surpassed later by the Colts' Peyton Manning and Marvin Harrison (112 TDs). Manningtoharrison? Yuck. Still, I think most NFL experts will agree that Montana-to-Rice, despite what the numbers say, was the best duo.
So, were Michael and Scottie the best duo ever?
Follow @Peon25