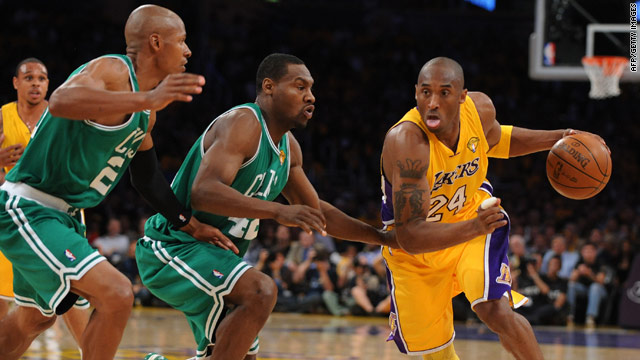 My prediction is that the Lakers take game 2 on Sunday, and head to Boston to play with half their victory already achieved.
The Los Angeles Lakers beat the Boston Celtics 102-89 in the first match of the NBA finals in Los Angeles on Thursday night, as they attempt to defend the title they won last year. L.A.'s star guard Kobe Bryant — who is aiming to win the NBA title for the fifth time in his career — scored 30 points to take his side to victory over their east-coast rivals.
The match marked their 12th consecutive win at home in the post-season and they will now host the second game of the best-of seven match series on Sunday 6 June, before play moves to Boston.
It is the 12th time that the Lakers and the Celtics have come face to the face in the NBA finals – the last meeting in 2008 when the Celtics claimed victory four games to two. However, the Lakers are the defending champions having beat Orlando last year.
Follow @Peon25