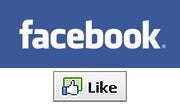 I'm sure you've noticed the past few days, fellow Facebookers. I pointed it out several days ago when "become a fan of" turned into "Like", and now many other things are shifting as well. It's not just social networking anymore; it's social domination.
Soon, everything you do on the Web may integrate with the "social graph" Facebook has created. Facebook is integrating user experiences on external sites with Facebook's news feed, effectively transforming what used to be a solitary browsing experience into a sprawling network of connectivity. It's big, it's ambitious, and it may very well change the way we use the Internet.
Facebook is evolving, something that was made clear at this week's f8 conference. Here are three developments that were highlighted there:
Social plug-ins: essentially the Facebook's "like" button splashed all over the Internet.
Open Graph: the evolution of yesteryear's Facebook Connect, a feature that simplified sharing the joys of the Internet on your news feed.
Open Graph API (application programming interface): designed to allow Facebook and participating sites to blend their respective user "social graphs" to customize their site experience for each individual visitor.
Follow @Peon25