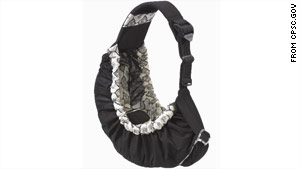 I read a couple of news stories regarding these yesterday and just giggled to myself. Apparently certain types of "baby slings" are being recalled as they are suffocating the children to death.
I'm sorry, but if you throw your newborn in a purse, you should be arrested. It's bad enough we have Paris Hilton wannabes throwing miniature rat-dogs in purses, but babies? Really?
Earlier this month, the U.S. Consumer Product Safety Commission issued a warning about the use of certain baby slings, saying it had identified 14 deaths with sling-style carriers, most of them in children younger than 4 months. On Tuesday, Health Canada issued a joint statement with the agency, saying three of the deaths appeared to occur in one of Infantino's slings.
In my opinion, don't blame the company for making a product. Blame the dumbass consumer who purchased the thing and threw their kid in there.
Follow @Peon25